BELLA CONTESSA Yacht Description
Represented by DMA Yachting, the impressive charter yacht BELLA CONTESSA is a 112 ft motor yacht featuring a jetski and a hot tub. The primary distinction of BELLA CONTESSA are her well-chosen interiors and inviting socializing areas. BELLA CONTESSA spends the summer and winter season in Florida. She was delivered by the well-known ship builder Lazzara in 2004. An elegant refit was completed in 2019. The spacious yacht layout features 5 large cabins and comfortably accommodates a group of 10 guests.
BELLA CONTESSA is classified as a superyacht. The key part of the yacht, roomy aft deck, elegantly connects to the meticulously composed main saloon. The main saloon is a comfortable space for early mornings or late evenings and serves as a location of entertainment. 5 elegant cabins are laid out to allow for comfortable access and private setting.
The motor yacht features 2 X MTU 1800 hp 2 X 45Kw Onans engines .
Accommodation
The Master Stateroom is located below decks amidship and features a walk-around king bed with a large walk-in closet, vanity and dresser and includes his and hers heads. The VIP Stateroom is located on the lower deck forward with a Queen bed and built in settee, en suite head and shower. The remaining 3 guest cabins are located below decks to port and starboard, of which two include a queen bed with en suite head and shower and the 3rd includes 2 twin beds and 2 pull-mans giving a great option for kids. Or the two twin can be converted to a queen size bed giving it maximum flexibility. This cabin also has an en suite head and shower.
What is the cabin arrangement of BELLA CONTESSA?
1 king cabin
3 queen cabins
1 twin cabin
2 pullman cabins
BELLA CONTESSA Weekly price: $64,000 - $70,000

Low Season | High Season

Length:

112'

# of Guests:

10

# of Cabins:

5

# of Crew:

4

Builder:

Lazzara

Consumption:

155 US Gall/Hr

Cruising Speed:

18 knots

Max. Speed:

25 knots

Built Year:

2004

Refit:

2019 BELLA CONTESSA Yacht Charter Price

| # of charter days | Base Price | APA (deposit for provisioning, fuel, docking fees, etc) | Total | | Note |
| --- | --- | --- | --- | --- | --- |
| 14 day charter | 128,000$ to 140,000$ | 25,600$ to 42,000$ | 153,600$ to 182,000$ | | Discounts outside the main season are common. |
| 7 day charter | 64,000$ to 70,000$ | 12,800$ to 21,000$ | 76,800$ to 91,000$ | | Standard charter rate, base for all calculations. |
| 3 day charter | 32,000$ to 35,000$ | 6,400$ to 10,500$ | 38,400$ to 45,500$ | | The usual formula is the 7 day charter rate divided by 6, times the number of days (3). Boat policy might differ. 64,000$ / 6 * 3 days = 32,000$ |
| 1 day charter | 10,667$ to 14,000$ | 2,133$ to 3,500$ | 12,800$ to 17,500$ | | Please inquire, the possibility/availability of a 1 day charter needs to be verified. |

All prices are generated by a calculator and serve as a guide for new charterers. Any additional information of the Price Details section has priority over above. Availability is always subject to confirmation. Gratuity not included for it's discretionary character, usually 5%-25% of the Base Price.
Price Details
High season rate: $70,000
***DAY CHARTERS***

$10,000 plus 4% Bahamas Taxes, plus 10% VAT plus crew gratuity (additional $500 for slide) for up to 12 guest
20% mandatory crew gratuity – needs to be collected at the time of contract (DAY CHARTERS ONLY)

*Rate includes:
- 8 hour cruise
- Continental Breakfast, Surf and Turf Lunch, Snacks, Open Bar and Beverages for up to 12 guests. (house wines, beer and standard liquor – no premium brands)
- Dockage at Bay Street Marina or Atlantis is also included but transportation from hotel to marina is charterer's expense.
- 15' Williams Jet Tender
- Does not include slide - Slide would be an extra $500


TERM CHARTERS: Weekly Rate plus 40% APA plus 4% Bahamas Taxes plus 10% Bahamas VAT
(Due to increase of fuel prices in the Bahamas)

Low Rate is all year long, Christmas and NYE weeks are High Rate. ***DAY CHARTERS***

$10,000 plus 4% Bahamas Taxes, plus 10% VAT plus crew gratuity (additional $500 for slide) for up to 12 guest
20% mandatory crew gratuity – needs to be collected at the time of contract (DAY CHARTERS ONLY)

*Rate includes:
- 8 hour cruise
- Continental Breakfast, Surf and Turf Lunch, Snacks, Open Bar and Beverages for up to 12 guests. (house wines, beer and standard liquor – no premium brands)
- Dockage at Bay Street Marina or Atlantis is also included but transportation from hotel to marina is charterer's expense.
- 15' Williams Jet Tender
- Does not include slide - Slide would be an extra $500


TERM CHARTERS: Weekly Rate plus 40% APA plus 4% Bahamas Taxes plus 10% Bahamas VAT
(Due to increase of fuel prices in the Bahamas)

Low Rate is all year long, Christmas and NYE weeks are High Rate.
Price Terms
Plus Expenses
Features
BBQ: 0
AC: Full
Internet: Onboard WIFI
Cruising Speed: 18 knots
Max Speed: 25 knots
More Specifications
Homeport:
Nassau, Bahamas
Diving Yacht offers Rendezvous Diving only
Air Compressor:
Not Onboard
Scuba On Board:
Yacht offers Rendezvous Diving only
Water Sports
Dinghy Size:
33' Boston Whaler
Crew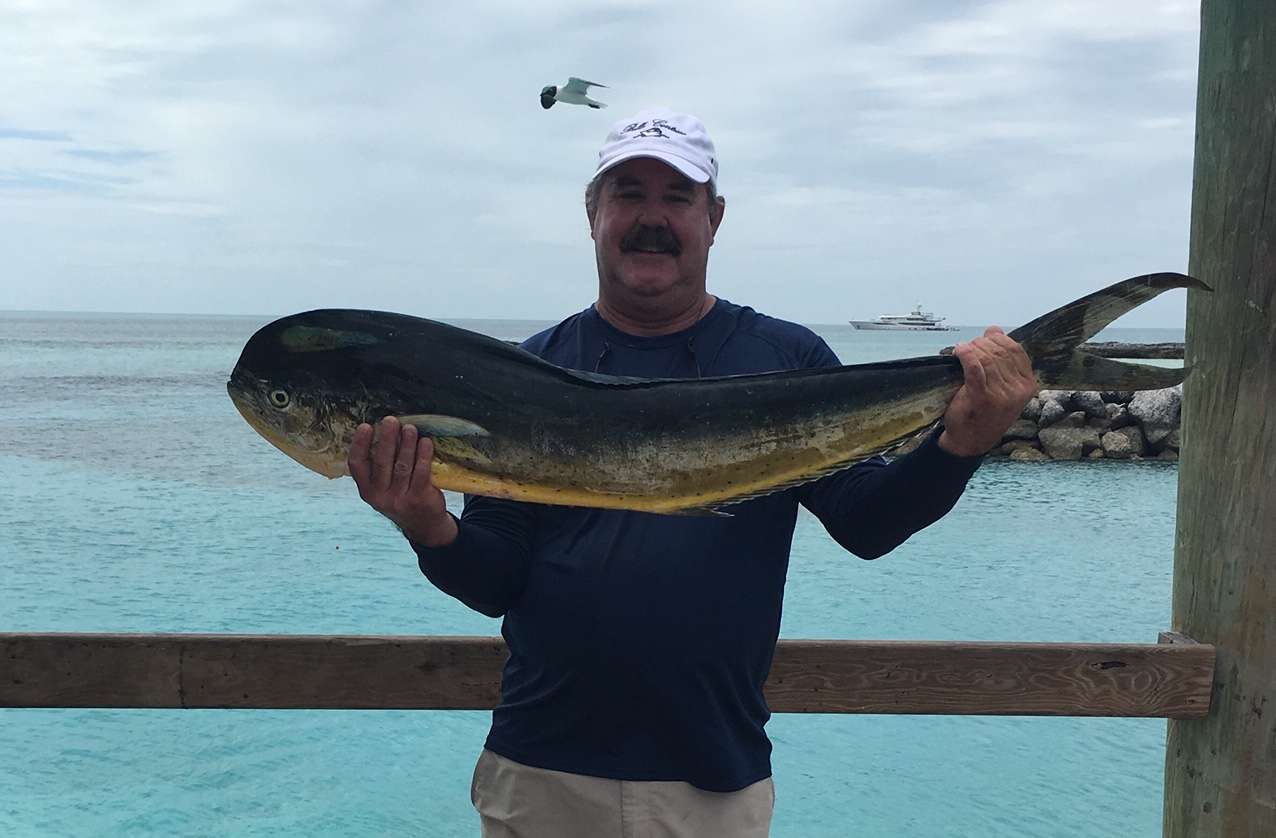 Captain Rotational Captain Stewardess Mate Rotational Chef Rotational Chef
Captain - Lee Berry

Education/Certifications: USCG 200grt/500GT Master VHF, Advanced Firefighting, Medical Care Provider STCW, AAA (AffAirAction), Multidimensional Yacht Security Training, Proficiency in Survival Craft & Rescue Boats, PADI Open Water
Languages: English
Nationality: American

Lee was born and raised in South Africa. His desire to travel led him to the yachting industry, which led him around the world in every possible direction. He met his wife in Newport, RI, they married on the sundeck of a yacht, and now reside in South Florida with their beautiful children.
Lee entered yachting in 1995 as a deckhand/mate on M/Y ALLURE where he stayed on board for 10 years. He has since been on vessels ranging from 45-198 ft and carries with him extensive knowledge of The Bahamas, Florida & New England cruising areas. He has the ability to create fun-filled itineraries for families and is keen on providing a one-of-a-kind experience for all guests.
In his spare time, Lee likes to build furniture, remodel the house & raise his family. He loves all types of fishing from bass fishing in the local canal to spear fishing and big game fishing.
Lee can't wait to welcome you on board 112' BELLA CONTESSA for a vacation like no other.



Rotational Chef - Jaime Jaramillo

Education/Certification: STCW, ENG 1, Security Awareness Professional Chef Diploma, Managers Serv Safe, Advanced Diploma in Mechanical Technology, Pursuing Cicerone Certification
Languages: English, Spanish, Basic Portuguese
Nationality: American

Watching his grandmother in the kitchen for several hours a day, chef Jamie developed a deep passion for cooking at an early age. After graduating from culinary school at the Art Institute in Ft Lauderdale he began working in fine dining and country clubs in Boca Raton. He then became interested in the sourcing of his produce and decided to move to New England where he discovered the true sense of locally sourced and farm-to-table dining. Upon returning back to sunny Florida, he embarked himself in the Gastro bar scene working at the rebel House in Boca becoming executive chef of 3rd & 3rd in Delray Beach for almost 4 years. Following his restaurant ventures he decided to become a private chef as well as a consultant chef before entering the yachting industry in 2018.
He has since worked on board M/Y AQUA LIFE, M/Y KIKI KAI, M/Y ENTREPRENEUR and more. He strives to make all meals from scratch using the freshest ingredients available. Chef Jaime is passionate about artisanal bread baking, fermenting, pickling, curing and smoking. He also has great knowledge of beers, wines and scotches and enjoys pairing them with his food. Chef Jamie can cook a wide range of cuisines and has no problem catering to specific requests such as low sodium, vegetarian, gluten-free, and kosher. Chef is eager to facilitate his extensive fine dining service to provide the ultimate high-end experience for guests on board BELLA CONTESSA.




Rotational Chef - Gillian Wrightson

Education/Certifications: Bachelor's Degree - University of Maryland College Park, IYT Superyacht Chef, Ships Cook, Supervisory Food Safety at Sea level 3, USCG 100Ton, Tow Endorsement, STCW with PDSD, PADI Open Water, Master Court of Sommelier, ENG 1
Languages Spoken: English
Nationality: American

Gillian currently resides in beautiful Fort Lauderdale, Florida. Prior to yachting she worked for Kimpton Hotels and Restaurants holding a variety of Managerial and Director positions for their restaurants. Chef Gillian is qualified to prepare many styles of cuisine, but her passion lies with Asian fusion. She enjoys challenging herself with constantly trying out new styles and flavors, aiming to work with the freshest ingredients that each culture provides. Chef Gillian has experience in preparing Vegan, Kosher, Gluten-Free,
Vegetarian, Whole 30, Pastry, Thai, Japanese, Mediterranean, Indian, Italian, Seafood, Mexican, French, and Caribbean
cuisines. She has cooked for up to as many as 27 heads on board including pescatarians and low sodium diets. When you can't find Gillian cooking amazing meals on board, you can find her rollerblading, cycling, scuba diving, snorkeling, kayaking, SUP Hiking, traveling, or enjoying great food and wine. Chef Gillian is excited to welcome guests aboard her table for a flavorful fine dining experience.


Stew - Anneline "Lynx" Duffield

Nationality: Zimbabwean and American
Education/Certifications: Elementary Seamanship, Food Hygiene Certificate Level 2, Proficiency in Designated Security Duties, WSET Level 2, STCW Basic Safety Training – Revalidated, Mixology and Bartending Masterclass, ENG1
Languages Spoken: English

Anneline has been in the yachting industry since 2015 becoming a dynamic and well-rounded stewardess. She has worked on both motor and sailing yachts, holding the capability to get the ground running on any type of vessel. Anneline completes all duties to the highest of standards ensuring a comfortable experience for all guests. She loves putting together themed nights and decorative accents that allow her to express her creativity and enhance the guest experience. Prior to yachting, Anneline was a head poker dealer and a manager of a 5-star lodge.

Having grown up in Zimbabwe, she has a great love for the outdoors and enjoys spending her time doing yoga, running, and hiking outside wherever possible. She enjoys keeping fit but is just as comfortable with a good book when exercise is not possible.

Anneline can't wait to continue her yachting career while providing a once and a lifetime experience aboard 112' BELLA CONTESSA.


Mate - John Thompson

Nationality: Bahamian
Languages Spoken: English
Education/Certificates: Bahamian Captain's License

John was born in Nassau, Bahamas, his family lives in Deep Creek, Eleuthera, a small coastal settlement, which farming and fishing are the mainstays of the area. John has 9 brothers and 2 sisters Growing up around the sea, fishing and diving was always and still is, his main interests. By the time he was 16, he was working as a mate on a fishing boat. After winning a few local tournaments, he had proved himself as a mate. Through his 20's John fished all over the Bahamas and got his Bahamian Captain's License at 25 years old. He started running sport fishing boats for various yachts between 40' to 100'. John is interested in all sports, but basketball and the Miami Heat will always be his favorite. John's passion is fishing and loves to teach people about the fish, diving and boating. His best qualities are honesty, patience, knowledge of the ocean and his outlook on life. His motto is "One day at a time". John truly considers the Bahamas as the best place on earth and brings a wealth of knowledge to 112' BELLA CONTESSA.

Reviews
***Feb 5-12, 2022***
Thank you for an incredible seven night voyage across the Exumas. The food was amazing, and service top-notch!

Morgan, your service was impeccable. You are a joy to be around and were not once frazzled.

John, to the best catcher man there is! We enjoyed every moment on your sea.

Chef Jillian, there are no words for the mastery of food you presented this week!

Captain Lee, thank you to the jack of all trades!

This was simply one of the best adventures of life.
***Dec 17-27, 2021***
Guest 1:
The best part was conk harvesting...

After filling over 30 bags with conk we decided to...wait, we didn't harvest any conks but we did have an epic time thanks to Captain Bill and his fabulous crew! It's not often that you bond with a crew to the point we all went out and got matching tattoos...oh wait, nope didn't do that either but what we did do was have an awesome time. The food was incredible, captain took us to so many cool places...right up until our boat was attacked by a Kraken...sorry that part was not true either.

Guest 2:
Thank you so much for the week of Christmas goodness!

Wow. Just wow.

Captain Bill – everything is better with you! It's true. Thank you for being the best.

Lynx – you are such a sweetheart. Thank you for taking awesome care of us. You have a bright future!

Hank – what a talent. Loved meeting you and enjoying your craft.

Johnny – thank you for your strength and kindness.

Thank you for being our first. We will always, always remember you.

Guest 3:
Our first time at sea on a vessel. So grand. What an absolute treasure chest of memories we collected.

Thanks to the extraordinary crew and comforts of traveling, we didn't have a care in the world.

Captain Bill far exceeded the role of pilot with his fabulous stories, adventurous spirit, and contagious affection for the sea beauty.

The food, exquisitely crafted by the lovely Hank was unreal!

Lynx, the hostess with a flair for thoughtful detail, made us feel at home.

Johhny, you are the kindest, hardest working mate at sea – thank you!

Guest 4:
From the west coast of the US, we extend our deepest gratitude to the *** family, our gracious hosts, and to the crew and owners for providing this opportunity to our family.
***July 7-14, 2021***
Let's start with Bill. You were the best captain ever. You were funny, cool, and smart. Johnny, you are super funny, strong, nice, and have a great singing voice. Claire, you had great food and were nice. Sarah, you were like a sister to me. You were nice, helpful, and funny. You were too helpful actually. You were the best crew in the world. We loved this vacation. We love you!
***June 19-26, 2021***
Guest One:
We arrived tired and a touch apprehensive. We are leaving with our hearts (and stomach) full after an incredible week. Many thanks for sharing your love for the Bahamas with us. We snorkeled, laughed, fished, laughed, jet skied, and laughed. Your energy and upbeat natures are infectious.


Guest Two:
Thank you for the best trip ever. All the beaches were so pretty, and I'm not scared of the sharks anymore. This trip has been so fun!

Captain Bill, thank you for taking us to so many cool places. Thank you, Johnny, for helping me park the jet skis. Carolyn, thank you for being so nice and helpful. Claire, thank you for all the amazing food.

This has truly been the best trip ever.

***May 6-16, 2021***

Guest One: Thank you Bella Contessa crew! You have been so much fun! Every day was a new adventure. Captain, thanks for taking us on every adventure. We loved the snorkelling, the conchs and especially the Dorado fishing. The food has been outstanding! Chef Freddy is a great Chef! Troy, you've been a lot of fun and I love your politics. We think alike! I sure hope we can do this again This has been the best vacation of my life! Thanks for everything.

Guest Two: Thank you Bella Contessa for a wonderful trip! You guys made it amazing for us! We loved all of the spots you too us to! Captain Bill, thank you for joining us in the water on all of our snorkeling excursions. Troy, thank you for taking me swimming every morning. Chef Fred, the food was amazing. Thank you Johnny for always smiling!

***Feb 4-18, 2021***
Guest One: Thank you so much for making this trip a safe success! Otherwise, I think all of us would have fallen or slipped off the ship at least once. You all were an overall 100/100 and I can't imagine my time in the Bahamas would be even half as great as it was without you all. And, obviously Olga, your food was too good to be true. You are a truly talented chef – like, WOW! Breakfast, lunch and dinner were my favorite part of the day!!

Guest Two: Amazing trip with the best crew ever!

Guest Three: What can I say? This was simply the most a.m.a.z.i.n.g week ever! Each one of you have a very special place in my heart. Olga, your cooking was phenomenal! I will strive to come close, but I know nothing can compare to your talented cuisine.
November 17, 2020
Captain Bill, Olga, Novelette and Johnny
You all made our stay on Bella Contessa Fabulous! It is a historic time and everyday is a bit harder. You all helped us forget for a moment in time!
Captain Bill - The adventures were amazing your stories and cheer were amazing.
Olga- Best food in a long time. You showed grace, talent, and passion with all the food and complexes we put forth – Delicious!
Novelette - you are the hardest worker around! We love spending time with you, and you made everything perfect!
Johnny - your smile and laughs filled the room Thank you for your care and keeping us comfortable.
We had a great time!! And will always cherish this time, Thank you!

July 24, 2020
WOW!!! Our first family boat trip and it was incredible! The staff, the islands, the boat - all were top notch and it was an amazing family experience!

July 5-12, 2020

WOW!!! Where do we begin?! We felt like family the minute we stepped on the yacht.

Captain Bill – you took us on so many great adventures, from feeding iguanas & pigs, playing on disappearing sand bars, riding the tide over and over, and snorkeling a reef inside caves and even a sea aquarium. You made sure our trip was customized just for us!
Chef Olga – every meal was better than the last! I'm surprised we didn't sink the poor yacht with all the amazing food we ate. It's obvious you put your heart into everything you prepare.
Novelette – With your sweet smile, you quietly made sure we had everything we needed before we even knew we needed it. Our rooms were always fresh. Our dirty clothes disappeared and magically showed up clean.
Johnny – what a fun fishing trip! Thanks for cooking our catch for the Independence Day lunch with all of your family recipes. Everything was so good and you even had our "no seafood" people eating fish.
Sarah – your effervescent personality was such a joy! Your presence was felt throughout the boat and you made it feel like home. We loved all the cocktails you created for us. We couldn't wait for each meal to see how the table was decorated. So much imagination!

We had the most fantastic crew on the gorgeous Bella Contessa in one of the most beautiful countries we have ever traveled to. Thanks to you all for a trip we will always remember.
June 29, 2020
Dear Captain Bill, Chef Olga, Nova and John.

We have travelled many place and we have never experienced a trip as fabulous as our 5 days on the beautiful Bella Contessa! Captain Bill, Olga, Nova and John… you guys are without a doubt the most amazing, professional, friendly team we could have had the pleasure to be with.

Rest assured that not only will we tell all of our friends about the Bella Contessa, but we look forward to seeing you again!!!

August 17, 2019
***August 17, 2019***
"Thank you for an unforgettable day on the water! This boat is absolutely beautiful. Thank you for your hospitality. We had an amazing and unforgettable day here in the Bahamas!"

August 13, 2019
***August 13, 2019***
"Bella Contessa – we had an unforgettable trip with you and the lovely crew. Bahamas is a beauty. We will forever treasure this wonderful experience. We love you. Stay safe and beautiful!"

August 2019
***August 2019***
"Bella Contessa, thank you so much for making this trip even better than it already was. Thank you all for helping us have the best time ever. You are all so much fun to be around. I will never forget this trip or forget you guys. I hope to one day come back and hang with you all again. Best trip ever and so many memories were made. WE LOVE YOU GUYS!!!"


August 2019
***August 2019***
"ABSOLUTELY AMAZING, I believe that life is measured not by the time you lived but instead by the time you spent living. This week was lived well!!!! From the moment we stepped aboard and then stepped into every adventure you brought us to, it was INCREDIBLE. We fed Iguanas, pigs, stingrays, sharks and ourselves plenty. The cave dives and tube rids were FANTASTIC. Jumping from the deck and sliding down the slide, sitting on the bow or in the hot tub, was only made better by the incredible hospitality that was shared. Each meal was better than the next and the memories will be impossible to top! I am so very grateful for this week that I truly lived!"


July 2019
***July 2019****
"Thank you so much for a wonderful trip. We had a fabulous time. We can't thank you enough. We will always remember this trip."


July 2019
***July 2019***
"Thank you for creating such a memorable vacation for us. The excursions were perfectly planned and the food was divine. This was by far the trip of a lifetime and we are so thankful to have shared this trip with you!"


March 2018
***March 2018***
Our 5 day Exumas trip in March 2018 was First Class! The yacht, staff, day tours and food were incredible. Chef Kim is a gourmet chef! We snorkeled on reefs, swam with pigs, explored underwater caves, jet skiied and much much more. Chef Kim prepared Mahi Mahi which we caught earlier that day! Captain Bill and first mate John were amazing. All the crew was very attentive and pampering.Trip of a lifetime!